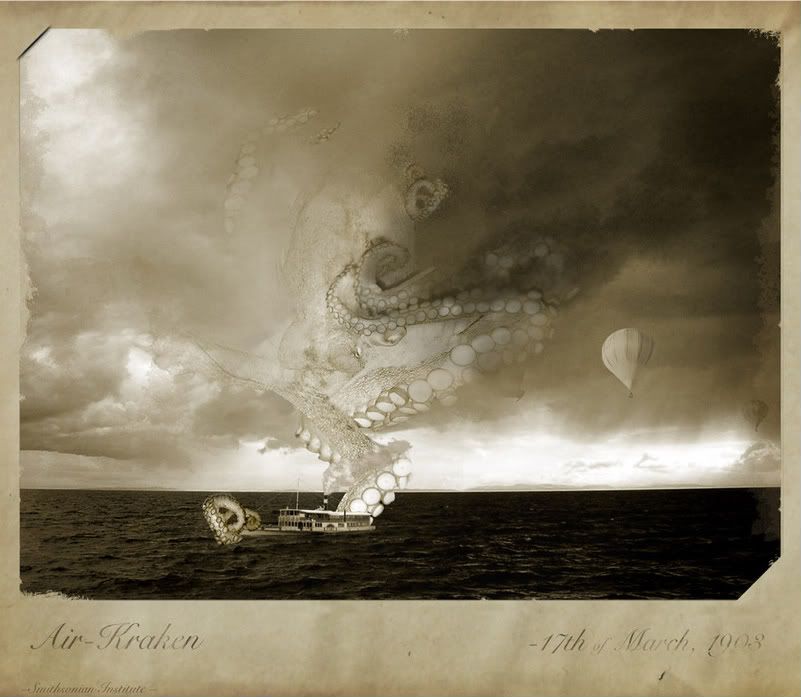 A few weeks ago a sighting was made of a flying, tentacled UFO colliding with a wind turbine in England. Similar UFO's had also been spotted a few days earlier in Scotland, described as octopus-like by the family of witnesses. I've blogged about tentacled UFO sightings previously in Shanghai and Stephensville, and there does indeed seem to be a lot of these things popping up all across the world.
But the tentacled haunting of our world's skies is not a phenomenon unique to the modern age. . .
Behold. . .
Damn Data on the Living Flying Madness that is the Air Kraken
Perhaps the only modern account of a sky predator attack on humans was presented by best-selling author Charles Berlitz in his 1989 book, The Dragon's Triangle. Berlitz retells the story of a doomed aircraft, an account he attributes to researcher Robert Coe Gardner. According to Gardner, a military transport plane took off from the San Diego Naval Air Station late one afternoon during the summer of 1939. Several hours later over the Pacific, the plane transmitted a desperate SOS, then fell silent. The stricken aircraft made it back to San Diego and managed an emergency landing.

After touchdown, ground personnel were horrified to discover that 12 of the 13 men on board were dead. The sole survivor-the copilot-died several minutes later. Reportedly, all the bodies exhibited massive, gaping wounds, and the exterior of the craft was badly damaged and torn open in places. It was also soon determined that the pilot and copilot had emptied their pistols at some unknown target. The whole episode was quickly hushed up, and Gardner would not hear of it until 1954.
Brass Goggles – March 17th is Air Kraken Day
Some of you may be aware of the scourge of the skies – the deadly Air-Kraken. Though Sir Arthur Conan Doyle wrote of them (The Horror of the Heights), and the whole ecology supporting these sky based terrors, they seem to have been mostly forgotten about. Well, with March being the height of their mating season, it's as good a day as any to look warily to the skies and remember the mighty Air-Kraken.
In September, 1891, a very unusual story came out of the small town of Crawfordsville, Indiana. At about 2 a.m. on the morning of September 5, two men hitching a wagon saw a "horrible apparition" appear in the sky. About 100 feet in the air hovered a bizarre creature–somewhat like a serpent, with no visible head. It was about 20 feet in length and had several pairs of wings. Reverend G.W. Switzer, a Methodist preacher, and his wife also saw the bizarre creature. It appeared again the following day in the evening. Hundreds of residents of Crawfordsville watched the creature as it flew about and "squirmed as if in agony". It hovered at an altitude of about 300 feet and was heard to make a "wheezing, plaintive sound". After this second appearance, the Crawfordsville Monster vanished, and it has not been seen since. The case has been investigated only by Charles Fort, who wrote of it in Lo!, and Vincent H. Gaddis, who recounted the story in Mysterious Fires and Lights. The biggest problem in identifying the monster, in addition to its utterly bizarre appearance, is the fact that no one is really sure whether or not it is actually a cryptid, or, as some claim, some sort of strange UFO display.

. . .

Gargantuan objects seen in the skies, like massive organic mother-ships from some sci-fi film about alien invasion? The image here at left was purported to have been taken by an Italian Dentist in Italy in July of 1999 in broad daylight. Little more is known about it than that the object was said to be extremely large, flying very high in the sky, emitting no sound and at a pace far too fast to be conventional aircraft or a balloon of somekind, and others who also witnessed the weird spectacle said its underside had 'lights like a UFO.' What is this grotesque, tentacled flying thing?
It's so Lovecraft.
Whether or not the jellyfish UFO's are the same phenomenon as the air kraken, I cannot say. All I know is, any vision of the 1800′s that doesn't feature giant flying squid constantly attacking cowboys and airship pilots is both completely inaccurate and lame.
I love you air kraken.
See also: