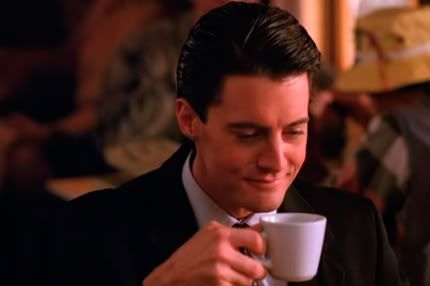 Kyle MacLachlan Wants to Return to Twin Peaks
Actor KYLE MACLACHLAN plans to resurrect his quirky TV drama TWIN PEAKS in short installments on the Internet.

The Desperate Housewives star played an FBI agent on the show between 1990 and 1991, working with legendary director David Lynch on the cult series.

The show was eventually cancelled after a decline in ratings, but returned in 1992 with a prequel movie Twin Peaks: Fire Walk with Me.

MacLachlan is desperate to reprise his role once again and hopes to utilise the web to help fulfil his ambition of a return to Twin Peaks.

He says, "I have a crazy idea to bring back Twin Peaks on the net as five minute webisodes."
(via Dugpa)
This has to happen.
Whether it's done as a comedy or a drama, there is nothing that could stop me from seeing it. Whatever Kyle MacLachlan has planned for this series, I'm in.
One idea I will mention. . . In the first episode of the series, when we see Agent Cooper in the Red Room for the very first time, we are told by the text that this is taking place "25 Years Later."
That date is not too far away.
(In high school, I always thought it was interesting that the events in that scene would be happening after the hyperdimensional time shift of 2012.)