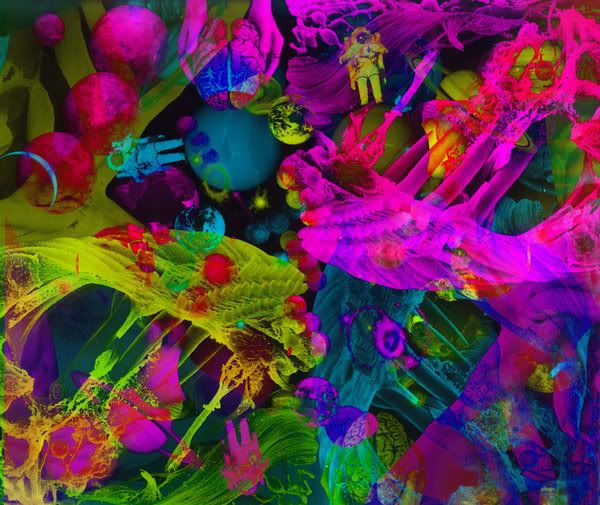 (Image by Dangerkoma)
This is a preview of the upcoming documentary, DMT: The Spirit Molecule, based on the book of the same name
by Dr. Rick Strassman.
(Found via Douglass Rushkoff)
DMT is produced in humans and most vertebrates by the pineal gland, located deep withing the brain. It releases it when we dream.
Some see the pineal gland as a physical aspect of our spiritual third eye. In fact, the parietal eye, an evolutionary ancestor of the pineal gland present in certain animals, actually has a retina, lens, and cornea.
From wikipedia:
Pinealocytes in many non-mammalian vertebrates have a strong resemblance to the photoreceptor cells of the eye. Some evolutionary biologists believe that the vertebrate pineal cells share a common evolutionary ancestor with retinal cells.

In some vertebrates exposure to light can set off a chain reaction of enzymatic events within the pineal gland which regulate circadian rhythms. Some early vertebrate fossil skulls have a pineal foramen (opening). This correlates with the physiology of the modern "living fossils", the lamprey and the tuatara, and some other vertebrates which have a parietal organ or "third eye" which, in some of them, is photosensitive. The third eye represents evolution's earlier approach to photoreception. The structures of the third eye in the tuatara are homologous to the cornea, lens and retina, though the latter resembles that of an octopus rather than a vertebrate retina. The asymmetrical whole consists of the "eye" to the left and the pineal sac to the right. "In animals that have lost the parietal eye, including mammals, the pineal sac is retained and condensed into the form of the pineal gland."
René Descartes described the pineal gland as the "seat of the soul."
In Discordianism, the pineal gland is a sacred organ used for communion with the goddess Eris.
See also: