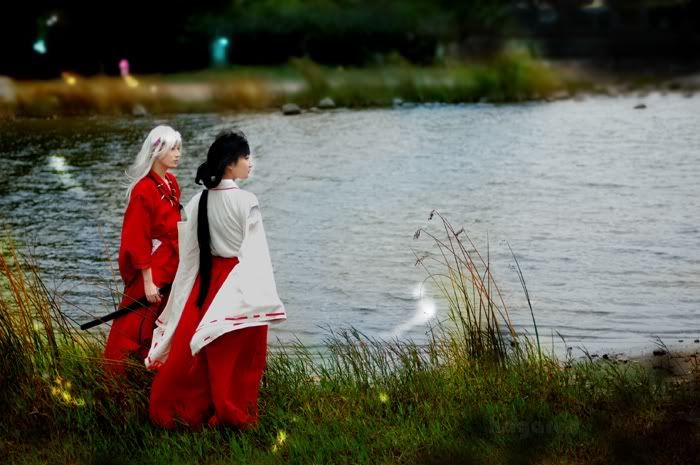 (Image by hagaren)
I almost didn't believe it, but it is indeed true.
For all those hardcore fans out there that have been desperately waiting all these years for an ending to this story. . . Hulu has the new episodes of InuYasha.
(Found via Solar)
I have no idea if Cartoon Network and Adult Swim are planning on picking up the series, so cheers to Hulu for existing, and having anime.
Links
InuYasha on Hulu
InuYasha: The Final Act on Hulu
InuYasha at Wikia
InuYasha World
The InuYasha Companion
Inuyasha: Sesshomaru Plush
Yomiuri Television's InuYasha Anime Site
InuYasha: Kagome Necklace
InuYasha: Beads of Subjectgation Necklace
Inuyasha: Complete Movies Box Set
Shonen Sunday's Official InuYasha Page
The Official Sunrise Website for InuYasha: The Final Act
Inuyasha Robe of Fire Rat Cosplay Costume
Cosplay
InuYasha
InuYasha, Kikyo, and Kagome
Inuyasha
Sesshomaru
Kikyo
Inuyasha and Kikyo
Inuyasha
InuYasha and Kagome
InuYasha
Sesshomaru and Rin
Kagome
InuYasha
Sango
Sango
Inutaishou
InuYasha
Sango and Kirara
InuYasha
Sango
Sesshomaru
Seshomaru
InuYasha and Kagome
Koga
Ayame
InuYasha, Sango, and Miroku
Kagome
Kagura
InuYasha and Kagome
Kagome
Jakotsu
InuYasha X-Mas
Juromaru
Yura
InuYasha
InuYasha and Sango
Sango
Kagome
Kagome and Kikyo
Kanna
Sesshomaru
InuYasha
Sango
InuYasha, Kagome, and Sesshomaru
InuYasha, Sango, Miroku, and Kohaku
InuYasha and Kagome
InuYasha and Kagome
InuYasha
Soundtracks
Inuyasha O.S.T. 1
Inuyasha O.S.T. 2
Inuyasha O.S.T. 3
The Best of Inuyasha
The Best of Inuyasha, Vol. 2
Inuyasha Character Song Single – InuYasha
Inuyasha Character Song Single – Miroku
Inuyasha Character Song Single – Sesshomaru
Inuyasha Character Single 2 – Bankotsu and Jakotsu
Inuyasha Character Single 2 – Kagome
Inuyasha Koukyo Renka: Wind
Inuyasha Drama CD: Jigoku De Matteta
The Best of Inuyasha Opening & Ending Songs
Kagomeeeeeee!