The world of Second Life is one that is constantly being created by those who live inside it, where everything from the buildings and robots, to the texture of an avatar's skin, to the way an avatar moves, is something designed by another player.
It is a world which has no story, yet at the same time it is a thousand stories all at once.
And there are dance clubs everywhere.
I love the bizarre cultures that have developed here. Furries and faeries, sex maniacs and sci-fi fans, Lindens and hackers. . .
It's a different game for everyone who plays it.
Second Life is such an expansive and constantly changing world, so filled with sci-fi madness, that it has grown its own branch of journalism just to document what happens inside. Below are some of the more interesting pieces of Second Life writing I've come across since beginning the game.
New World Notes
Warren Ellis – Second Life Sketches
The Girl with Error-Message Eyes

Please Stop Doing That to the Cat

Let's Put the Future Behind Us
The Alphaville Herald
Others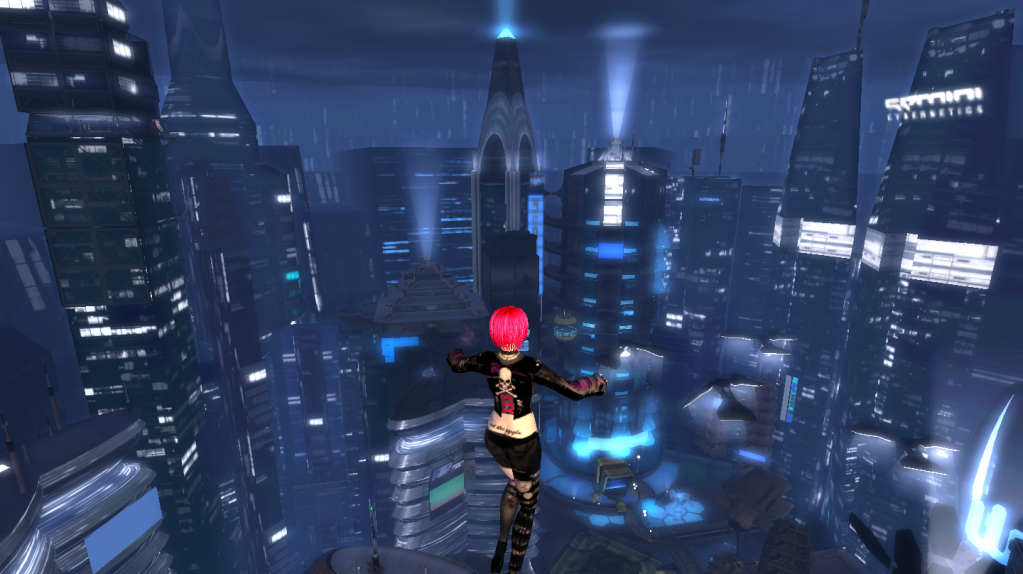 A fair amount of books, both fiction and non-fiction, have been published on Second Life. Here is a list of some of the best.
There is lot of excellent machinima being produced in Second Life as well.
For those just starting out in this world, I recommend gothic Transylvania, the steampunk cities of Caledon and New Babbage, the mysterious oracle beneath the temple in Svarga, or Insilico, the coolest cyberpunk city in Second Life since the fall of Nexus Prime.
The Electric Children island is coming soon. . .