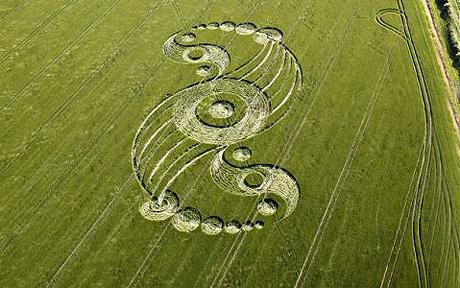 Police Officer Sees Aliens at Crop Circle
The sergeant, who has not been named, was off-duty when he saw the figures standing in a field near Silbury Hill, and stopped his car to investigate.

However, as he approached the 'men' – all over 6ft tall with blond hair – he heard "the sound of static electricity" and the trio ran away "faster than any man he had ever seen".

The officer returned to his home in Marlborough, Wiltshire, and contacted paranormal experts and told them he had spotted a UFO.
(Link via The Anomalist)
The encounter this police officer had reminds me of something I read in a book I discovered just yesterday. The book was Yokai Attack!: The Japanese Monster Survival Guide
, and the being described within it was the Japanese Kuchisake Onna.
There are two main similarities between the Kuchisake Onna and the beings described by the officer above. First, they both appear to be almost human (with the Kuchisake Onna wearing a surgical mask or scarf to cover her mouth), and the incredible speed with which they can move.
From Yokai Attack!:
It is feared by schoolchildren as a cold-blooded predator with a mouthful of fangs and the ability to outrun a speeding motorcycle. In fact, according to one source, a whopping ninety-nine percent of Japanese children are familiar with the general story.
The connections between the Kuchisake Onna and the three entities above is of course superficial, but the presence of these supernatural speedsters in both the British Islands and Japan make me think of the ongoing discussions in the UFO spheres regarding the extraterrestrial hypothesis. . .
In other UFO news:
UFO Attacks X-Files Wind Farm
Plasma Balls, Tripods, and Giant Fractal Mantoids
UFOs in Nambia
Former AEC Supervisor Says Roswell was ET
Did the UFO Abduct the Water Buffalo?
Steven Greer on Disclosure
How Long is a UFO
And here is a leaked video of two reporters discussing the now infamous Chicago O'Hare Airpot UFO incident, one of the most well documented UFO sightings to date.