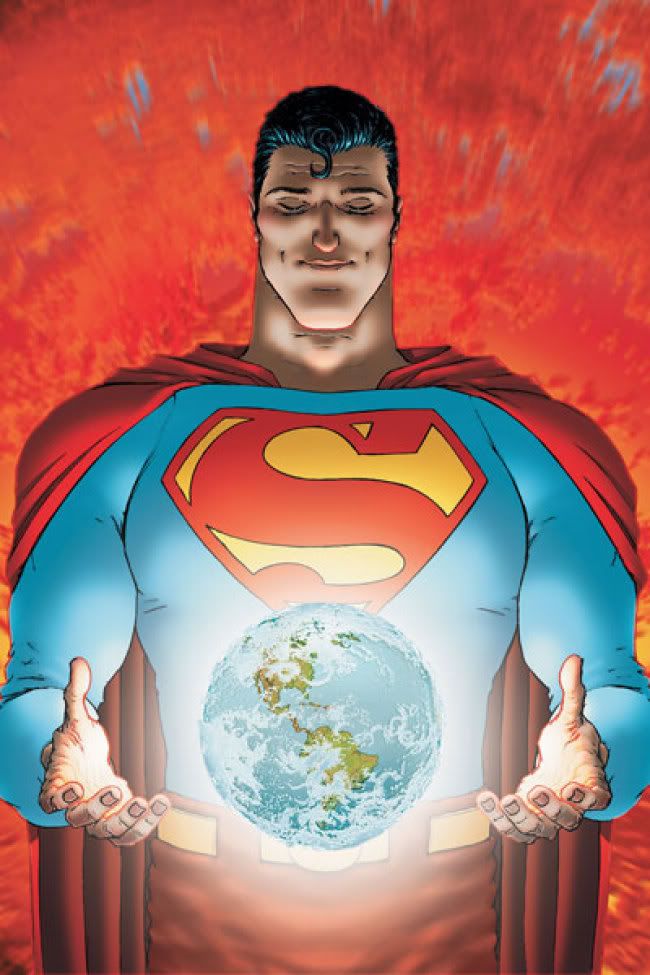 Being a collection of real world encounters by comic book creators with their characters. . .
Neil Gaiman and Adam Rogers in Wired – The Myth of Superman
About a decade ago, Alvin Schwartz, who wrote Superman comic strips in the 1940s and '50s, published one of the great Odd Books of our time. In An Unlikely Prophet, reissued in paperback this spring, Schwartz writes that Superman is real. He is a tulpa, a Tibetan word for a being brought to life through thought and willpower. Schwartz also says a Hawaiian kahuna told him that Superman once traveled 2,000 years back in time to keep the island chain from being destroyed by volcanic activity. Maybe it happened, maybe it didn't, but it does sound like a job for Superman – all in a day's work for a guy who can squeeze coal into diamonds. Schwartz then tells of his own encounter with Superman in a New York taxi, when he learned firsthand that Superman's cape is, in fact, more than mere fabric. . .
(via Technoccult)
An Unlikely Prophet
arrived at my door early this morning. It begins with the author receiving a phone call from a Tibetan tulpa named Thongden, who apears a few days later on a bicycle. Seeking to be made real by Schwartz, it is Thongden who started the author on the path that would eventually lead him to the Man of Tomorrow.
Schwartz, however, is not the only comic book writer to have an encounter with one of their characters.
Grant Morrison speaks frequently of meeting an incarnation of Superman during a shamanistic experience, as well as a wide variety of his Invisibles characters, and in fact has developed an entire occult system based on interacting with them.
It was Superman Plus. I wrote most of it after meeting the Man of Steel at 2am opposite the Sheraton in San Diego – a true shamanic moment.

"He was wearing the best Superman suit I've seen and looked fantastic as Superman, a cross between Chris Reeve and Billy Zane, so we asked him if he'd answer some questions which he did in the character of Superman! It was like a possession. I'd say to the guy, 'So how do you feel about Batman?' and he'd come back with 'Well, Batman and I don't really see eye to eye on a lot of things. He's so hung up on the darkness in everyone's soul and I just don't see it that way…' and so on. He spoke to us for about an hour and a half.

"The thing that really hit me, wasn't so much what Superman was saying as how he was sitting. He was perched on a bollard with one knee drawn up, chin resting on his arms. He looked totally relaxed…and I suddenly realized this was how Superman would sit. He wouldn't puff out his chest or posture heroically, he would be totally chilled. If nothing can hurt you, you can afford to be cool. A man like Superman would never have to tense against the cold; never have to flinch in the face of a blow. He would be completely laid back, un-tense. With this image of Superman relaxing on a cloud looking out for us all in my head, I rushed back to my hotel room and filled dozens of pages of my notebook with notes and drawings."
The Invisibles is a comic book hypersigil translating Grant Morrison's alien abduction experience into a spell designed to magically effect the life of the author, the lives of the readers, and to lift the veils between the fictional universe, our universe, and the universe beyond. Crossing the borders between fiction and reality has been an ongoing theme in Morrison's work, and even Final Crisis can be seen as an instruction manual for interaction with the New Gods.
It was always really fascinating to me that Superman was so much older than me and yet I could come along and write adventures with Superman in them and add to his life story. Then I could die and Superman would keep going, with other people writing stories to keep him alive. He's more real than I am because he has a longer lifespan and more influence, so this notion of the 'real' 2-dimensional world of the comics and what it had to say to the 'real' 3-dimensional world of non-fictional people. That really connected with me in a big way and helped me grapple with big ideas about the universe and life and death. I wanted to really 'make contact' with that world and bargain with its inhabitants. I saw it as the lynchpin of my magic. The comic universes are living breathing alternate worlds we can visit. And, if we're lucky enough to be comic book writers we get to play directly with the inhabitants and environments of the 2nd dimension. I wanted to travel in those worlds. By the time I was doing The Invisibles I had gotten past the idea of just putting a drawing of myself in a comic, as I did in Animal Man. I wanted to treat the story like a real continuum. I wanted to really get involved with the comic, in the two dimensional surface of the comic itself and at the point of interface where 2-d becomes 3-d and then touches 4-d. I wanted to see if I could exchange places with a comic book character, so I made myself look like King Mob, and started to have adventures so I would have stuff to write about. I wasn't blowing up military installations or killing Japanese terrorists but I was running around the world in bunker boots and black vinyl, doing magic and meeting all these amazing girls who were actually getting off with King Mob's spirit in my body.
On the conjuration of Metron:
To me, it was punk magic, because it was stripping away all the stuff about magic that wasn't making any sense to me. I'd sat there with Crowley's books and even Robert Anton Wilson kind of said you have to spend a lot of time understanding the kabbalistic sephiroth or the enochian aethyrs and I was reading that stuff and it wasn't getting through to me, it didn't really connect, it didn't mean anything to me, cuz these seemed like the symbols of another age and—apart from the Egyptian cat goddess Bast, and the amusing complex of Scribe gods comprising Thoth. Odin/Ganesh and Hermes—they lacked any real emotional connection for me. So when Chaos Magic came along to say that instead of summoning up Hermes, you could just as easily summon up DC comics super-speedster The Flash and The Flash would appear, visibly, I was naturally excited. [laughs] So I'm going, Bullshit, and I summoned Metron from the "New Gods" comics…and I got Metron! Or I should say what I got was the distilled, descending power and magic of language, speed and information which was wearing Metron drag in order to talk to me.
Metron is not the only god or New God that has been communicated with by Morrison, and certainly not the only fictional character. He has conjured The Flash, invoked Batman on a daily basis while writing that character, and even did a vision quest to experience the world as a Bizarro.
Grant Morrison is currently planning for the release of Pop Mag!c, his guide to the occult, sometime in the near future. The style is an expansion of chaos magic and fiction magic that has now evolved into a new form Morrison calls Blank Magic.
It's already 150 pages done. I'm just presenting stuff that I've discovered over the years of practise. All of my experiments in Enochian magic, voodoo, Aztec sorcery, Buddhism, Satanism, kabbalah, spiral dynamics, wicca, Gnosticism are there along with the outline of my personal system and practical nuts-and-bolts advice for budding sorcerors. All I can do is offer my nervous system's passage through time and what it's recorded. Hopefully it will resonate with other people's experiences, cuz as I say, I don't think I'm that different from other people, except I've chosen to use myself as a laboratory. "Pop Mag!c" is the name of this stripped-back customized system that I've developed. What I think it's got in its favor, is that its an attempt to dump the symbolic content of the various magic 'schools' and it tries to reposition magic in a place where it's about actual physical events and about what happens and how it feels to conjure or to invoke spirits or divine the future. It's talking in the vernacular. What a 16th-century scholar meant by 'aethyr' is no longer what 21st century science means by ether, and to use that word is to kind of get lost in the gloss.
Grant Morrison and Deepak Chopra – The Seven Spiritual Laws of the Superhero
I find quotes like these to be fascinating as well:
The next stage for the superman meme, of course, is to make the long-awaited jump from screen to reality. This will happen within a decade or two, I predict, and seem normal by 2050. Which is why superhero stories are the true social realist fiction of tomorrow, demanding the serious attention of our finest imaginative minds right now.
Another writer who has experienced such encounters with their characters is Alan Moore, author of Watchmen and From Hell, who met his creation, the always delightful John Constantine twice. The first time he met the Hellblazer star was at a bar in London, right out in the open, not long after Moore had written him in to his run on Swamp Thing.
One day, I was in Westminster in London — this was after we had introduced the character — and I was sitting in a sandwich bar. All of a sudden, up the stairs came John Constantine. He was wearing the trenchcoat, a short cut — he looked — no, he didn't even look exactly like Sting. He looked exactly like John Constantine. He looked at me, stared me straight in the eyes, smiled, nodded almost conspiratorially and then just walked off around the corner to the other part of the snack bar.

I sat there and thought, should I go around that corner and see if he is really there, or should I just eat my sandwich and leave? I opted for the latter; I thought it was the safest. I'm not making any claims to anything. I'm just saying that it happened.
The second time Moore met him was during an occult ritual, wherein Constantine appeared from the dark with a light of his cigarrette, and whispered to him the true secret of magic – Anyone can do it.
(You can hear him describing these encounters in detail on the Disinfo Podcast at the one hour, two minute mark.)
Moore's description of his encounter with another fictional entity, the Roman snake god Glycon:
In fact, the whole alphabet's there right from the start. So there was this perception of being outside of Time. From that perspective, it was possible to see that all of Time was in fact happening at once.

There were other revelations. There was a lot that seemed to be connected with this Roman snake god, whose name was Glycon. Now, the only references there are to him, which are very disparaging, are in the works of the philosopher Lucien… Lucien explains that the whole Glycon cult was an enormous fraud, and that Glycon was a glove puppet. And I've got no reason to disbelieve that whatsoever. It sounds absolutely true, that yeah, the false prophet Alexander, who was the person putting on the Glycon show, had a large tame boa constrictor and he had the head of it tucked under his arm and draped over his shoulder he had a speaking tube that had been designed to look like this inhuman longhaired snake's head with articulated jaws so that it would seem to speak. Yeah, that sounds about right. [chuckles] Of course, to me, I think that's perfect. If I'm gonna have a god I prefer it to be a complete hoax and a glove puppet because I'm not likely to start believing that glove puppet created the universe or anything dangerous like that.

To me, the IDEA of the god IS the god.
Like Morrison, Alan Moore is a practicing magician, with Promethea and The Black Dossier being his most thorough meditations on the subject to date. His magical grimoire, The Moon and Serpent Bumper Book of Magic, is set to be released in 2011.
But not all of these encounters between creators and their creations have been the results of purposeful magical workings, of comic books created with occult intent. It goes beyond that.
Some of the encounters are completely unexpected.
Peter Gross, in his afterword for the final issue
of The Books of Magic:
Here's my definitive story of how working on this book had a certain magic to it: around the time issue 36 was being produced, John Rieber and I had both recently split with our girlfriends and he came here to Minneapolis for an extended stay. The first night we went out together we met two sisters – one who bore a more than passing resemblance to Titania, and the other who, to our greater amazement, was the exact image and personality of Molly O'Reilly. John, to no one's surprise if you know him, was smitten with Titania for a Mid-Autumn's night or so. I fell head over heels in love with the Molly (who is actually Jeanne) and three happy years later we're having a baby together, due in July. To this day, people in Jeanne's family can't believe that Molly wasn't modeled after her. I don't think it's any accident that I drew her before I met her before I met her, and I don't think it's a coincidence that the first night John and I (and all that BoM energy) went out together we would cross her path.
And then of course there's Neil Gaiman. . .
Neil Gaiman described seeing Dream of The Endless standing over his sleeping daughter as her fever broke, and of meeting the demon Choronzon at Halloween, in a short piece he did with artist Dave McKean called The Last Sandman Story for the Dustcovers
collection.
I remember that moment, and the Hallowe'en fantasy, and the various encounters with Death-girls, as something special, set aside from the rest of Sandman. But then, the writing of Sandman was, in itself, a tangled strand of coincidences.

Ask me by daylight if I believe in Morpheus, or any of the other characters I invented and I'll smile at you, and tell you how hard it is to believe in people when you know they came out of your head.

Ask me late at night, though, whisper it to me as my head touches the pillow in the moment before sleep. . .

I do not know what answer you will get.
See also: