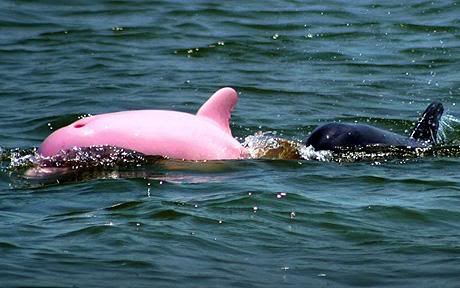 An amazing and rare albino bottlenose dolphin has made its way into a saltwater estuary in Louisiana.
(via BoingBoing)
From an anonymous post in their comments section:
In the Amazon, there is a pink river dolphin, which was shown on old Jacques Costeau documentaries on the Amazon river, and also is the source of legend from people that live by the river. The legend says that the pink dolphin, on a day every month, becomes a handsome man, and goes out to mate with a human female. And when a pregnant woman shows up and the father is unknown, the ladies say that the father is the pink dolphin!!!
The Pearl River Delta, between Hong Kong and Macau, is home to around a thousand Indo-pacific Humpback dolphins, Sousa chinensis. For some unknown reason, populations of this species along the Chinese coast are bright pink.
A Pink Dolphin Swims Up and Says Hello
Pink Dolphins Emerge from the Water . . .